2 January 2009
Introduction
DOW re-bounced from its low of 7,552 on 20 Nov 2008 to the present high of 9,034 on 2 Jan 2009. It has gained about 1,500 points or 20% over a period of slightly over 1 month. It has moved up against the odd of many bad economic news.
Where will it move from here?
According to Chinese Zodiac, the next Chinese New Year is an OX year. It was speculated that years of OX were
never a good year for equity or stock market.
This has proven to be true for year 1973, 1985 and 1997 when markets plunged during these dreadful years.
Will it be true also this year?
Charts are not able to tell much about the distant future. However, the chart of Elliot Wave indicates that DOW is presently forming the "ABC waves". The Elliot Wave chart suggested that DOW could have just completed forming its downward "A wave" and presently, it could be forming the "B wave" as shown in the attached monthly chart:
The above chart also shows that DOW tested the 200 MA support line recently. If this important support line is broken, then one would expect DOW to extend its wave A movement and seek lower lows.
Can the Charts Read the Near Future Movement?
The following charts will show that DOW is presently negotiating a re-bounce and is forming all sort of shapes and patterns. It gave conflicting signals about its near future movements.
Although most of the signals are positive ones, there is one worrying signal that indicates that DOW will continue its decline as shown in the attached chart: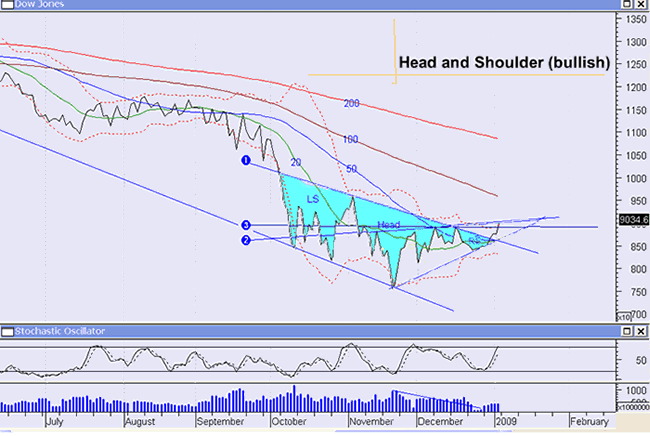 doubleclick for enlarged view
The above chart shows that DOW has formed 4 different shapes and patterns. They are:
a) The bottom Head and Shoulder pattern (bullish);
b) The ascending triangle(bullish);
c) The symmetrical triangle(bullish);
d) The rising wedge(bearish).

It is good also to note that:
a) DOW had broken the resistances of some of these shapes and patterns;
b) Its 20-day MA was about to cross over the 50-day MA;
c) The trading volume was low when DOW broke the resistances.

Isn't That Bullish?
By popular count, one can say that DOW is bullish presently; however, the trading volumes were quite low when DOW broke the resistances plus there were many bad news, one could not conclude that DOW will continue its way up; on the contrary, DOW may just turn bearish and continue its way down.

How's STI Doing?
With the 68 point gained last Friday, STI has broken the symmetrical triangle that has restricted the STI's movement over the past 3 months; again, this significant event was not supported by very heavy trading volume. It could mean that the investors were still doubtful about the STI's future movement.

Trading Strategy
Unless there is a trading breakout supported by heavy trading volume in the next few sessions, it is likely that STI or DOW will remain range bounced with a sideway movement or may even dip from the presently level.
It is therefore wise to remain cautiously optimistic until the 20-day MA can cross over the 50-day MA convincingly or when there is a trading breakouts supported by heavier trading volume.
Disclaimer:
Information here is for sharing and learning. It is not intended to give any advice on any stock or movement or trend of any index. If a price or movment of a stock/index is given, it is only intended for illustration. The reader shall verify the information given here before using them.